::sigh::.... Romo is out for 4 weeks. He's on my fantasy football team. I got Favre as my backup QB, hopefully that works out for me. But on a brighter side of things, i MURDERED my opponent this week...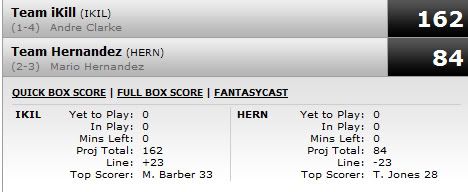 But, my record ain't all that great right now :-(. Anyways, i went to class today and then tried to go watch 'Quarantine' afterwards... FAIL! Seriously, we walked out after 20 mins. It was just pure garbage. I don't even know how to explain it. I just don't know what to say. lol.
That's all i have to say. Peace.